Click a feature to read more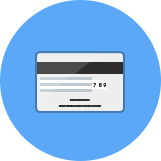 Electronic Invoicing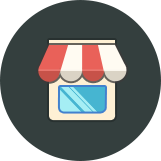 Online Store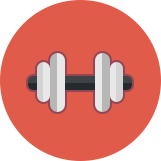 Session Tracking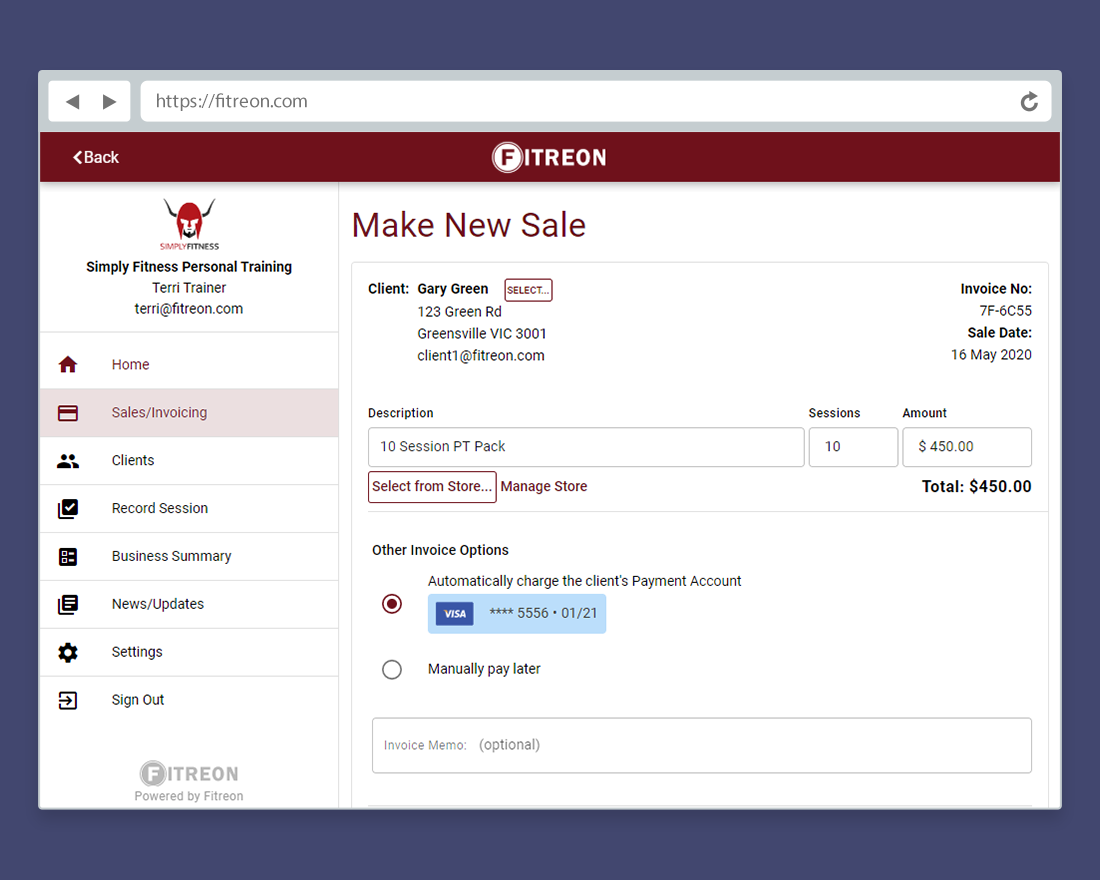 Electronic invoicing and payments
Your clients can make secure card payments on your invoices via the web at any time.

Full invoice management, including refunds, crediting, receipts, overdue payments tracking, and more.
Increase your revenue and save time! Using the popular worldwide payments platform Stripe, taking credit card payments has never been easier.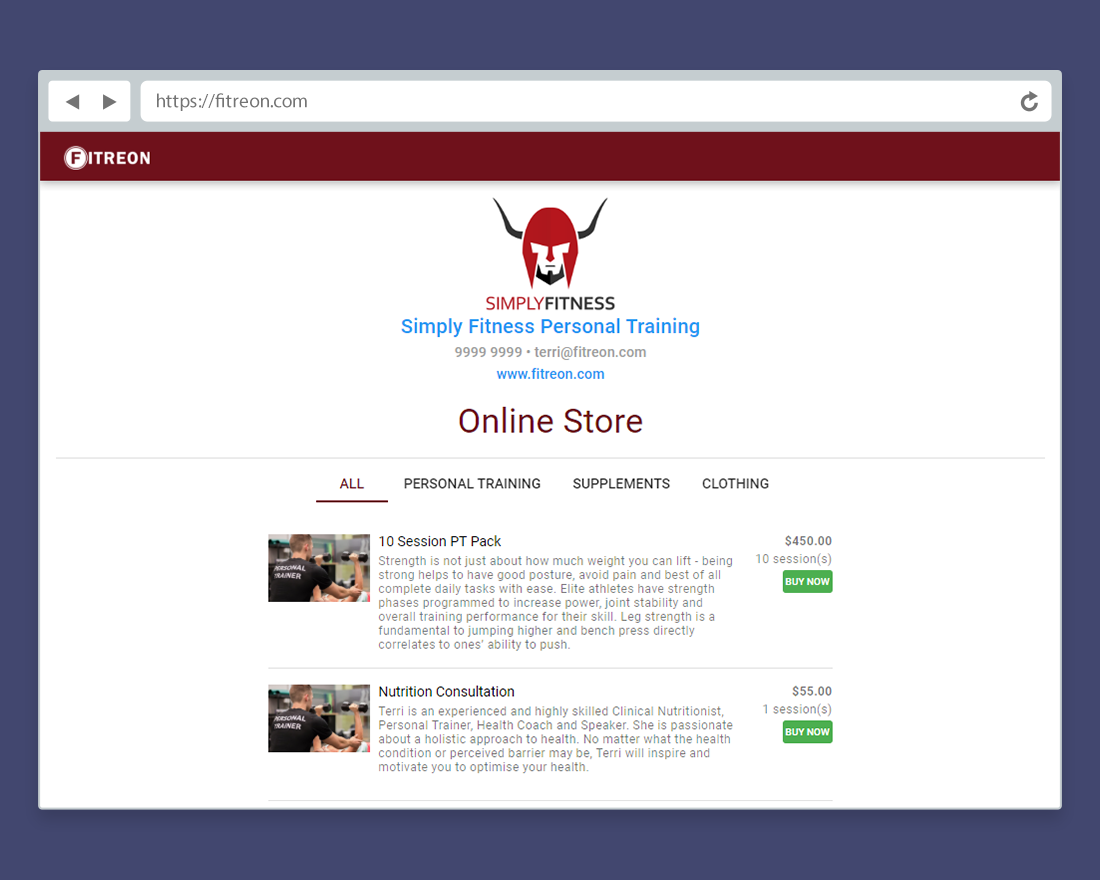 Your own world-wide online store.
Build your presence, gain new clients and increase your income with Fitreon's Online Store. Sell your services to anyone, anywhere, at any time.

Fitreon's Online Store is perfect for selling your professional services, both in-person and "virtual training." You can even sell merchandise like t-shirts and supplements.
Make money while you sleep! An online store means people can sign up with you any time, day or night.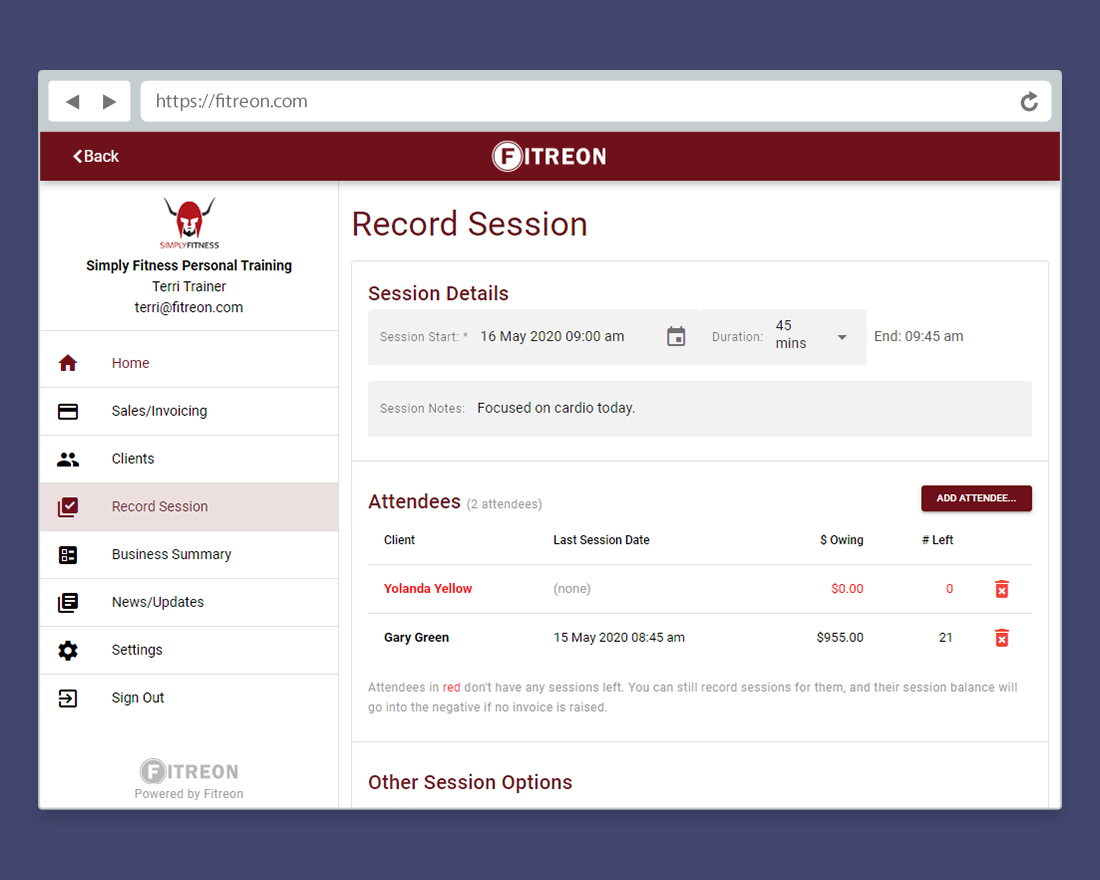 Record sessions as they happen
Eliminate contention around missing sessions and know exactly when your clients are due to purchase more sessions from you.

Make your administration a breeze by having Fitreon automatically raise new invoices for your clients once you've completed a session with them.
Keep everybody happy! Eliminate disputes over how many sessions clients have done and how many they have left.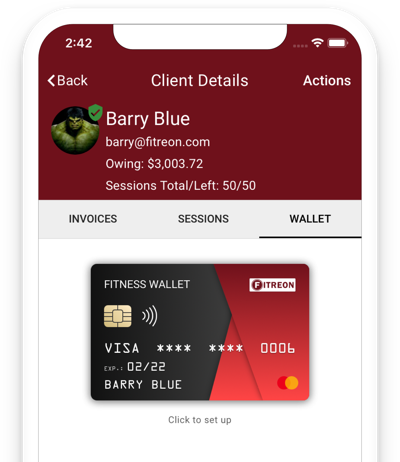 Fitness Wallets
Get paid with a single click!
Fitness Wallets are a great convenience for both you and your client and helps ensure invoices are paid in a timely fashion.

Your clients don't have to worry about carrying money with them while working out, and payment is much quicker than when done by 'old-school' methods such as bank transfer.
ELITE TOOLS FOR THE ELITE PERSONAL TRAINER
Fitreon gives you the tools you need to attract clients, sell your services, and get paid.
Your clients can make secure card payments against your invoices via the web at any time. Say goodbye to the hassles and delays of bank transfers.
Quickly raise and send electronic invoices with full ongoing payment tracking. Clients can pay invoices from home at any time, and receive automatic receipt emails.
Recording when clients have performed a session-- including group-ex sessions-- is quick and easy. See a complete history of sessions undertaken by clients, and how many they have left.
Sell your services and merchandise to a worldwide audience at any time, day and night. It's like having an additional web site to promote your business! You can personalize the content of your store to suit your needs and branding, including your news feed.
Discount codes are a great marketing tool! They enable you to offer special codes that entitle the client to a dollar or percent discount on a purchase they make via your online store. You can control how many times a code can be used, and what it can be used for.
It's important to keep in touch with your clients and reach out to your potential clients. In conjunction with your social media efforts, Fitreon lets you post news, updates, articles, fitness tips and more to your clients and prospects.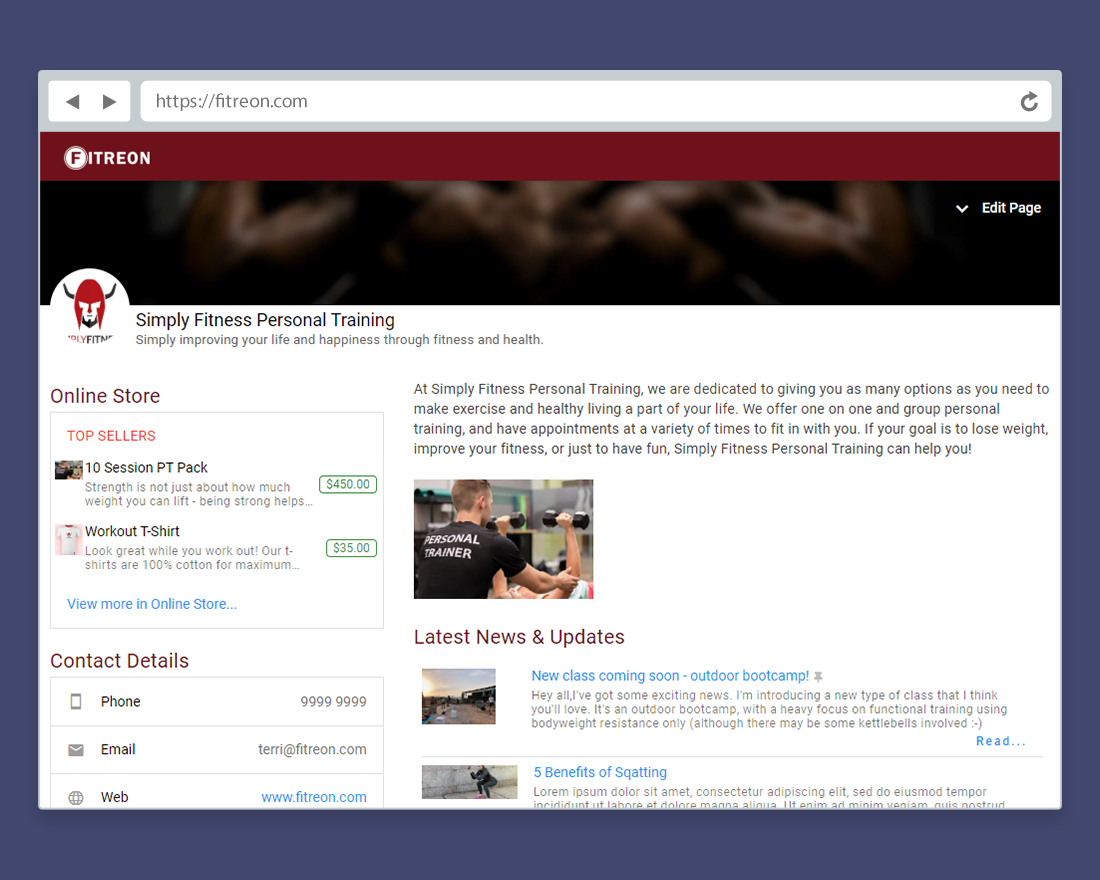 Let Fitreon Help You Succeed
Being a great trainer is more than technical competancy. Clients and prospects respond to professionalism, branding, and want a smooth, hassle-free interaction with your business.
Fitreon gives you the tools to promote your brand, increase sales and revenue, and improve client loyalty.
Get Started Now
Fitreon is completely FREE
to sign up!
That's right. You don't have to pay the expensive monthly subscription fees most online personal trainer software apps slug you.
No catches and no gotcha's.
Sign Up Online
OR
Frequently Asked Questions
Fitreon sets a new standard for fitness professionals.
How can Fitreon be free?
We make our money by taking a tiny slice of the transaction fees charged when using the Stripe service for payments. Fees vary by location, so refer to the Getting Started with Electronic Payments screen in Fitreon for more information.
Is there an iPhone/iPad or Android app?
Yes. Fitreon is available as a web app for use on desktop and laptop computers, as well as on Android and Apple iOS devices (iPhone & iPad.) Your clients don't need to download anything in order to use Fitreon.
How secure is my data?
Extremely. We take every effort to ensure your data, and your client's data is safe and secure. We use Microsoft's Azure cloud services to aid in these efforts. Also, we will never sell your data to anyone else for marketing purposes.
Does Fitreon work in my country?
Fitreon works anywhere you have an Internet connection. That said, at present it's only in English, and uses either the Dollar or Pound for currency. We aim to expand this in the future. Electronic payments are available anywhere Stripe is available, which is over 30 countries right now.
How do I take credit card payments?
We use Stripe™ as our payments processor. Stripe is a world-renowned service for ecommerce payments. Signing up for a Stripe account is a quick, straight forward process that only takes a few minutes online. Once done, Fitreon automatically configures your account so you can accept credit card.
Why do you rock so much?
Thanks for noticing We love this industry so much, and that shows in the products we build for you.
Have a question or need help?
Send us a message and we'll get back to you as soon as we can.
Submitting your message...
Thank You
Your message has been sent, and we'll get back to you soon.
Sorry, but there was a problem sending your message. Please try again later.
If you continue to have difficulties, you can email our support team as support@fitreon.com.